Chiropractor in Arlington Heights, Illinois
We challenge you to improve your health with chiropractic wellness. On Behalf of Health First Chiropractic Wellness Center, we would like to welcome you to our practice.
Dr. Salman Khan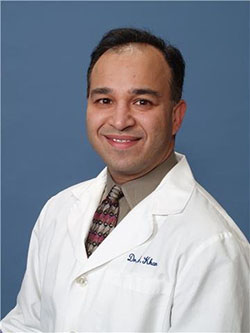 Dr. Salman Khan provides quality chiropractic care to patients in Arlington Heights, Illinois. Whether you're searching for effective pain relief or a way to boost whole body wellness, Health First Chiropractic can help.
Established in 2005, we are a natural wellness center offering gentle chiropractic care, physical therapy, massage, nutrition counseling, orthotics and custom footwear, supplements, and anti-aging consulting.
Call our office at (847) 305-4568 for an appointment today!
​Dr. Salman Khan has been freeing people from pain in the clinic in Arlington Heights, IL. As a Chiropractor with experience, Dr. Khan is committed to promoting optimal health and wellbeing of patients.
Dr. Khan uses a "whole person approach". This approach to wellness means looking for underlying causes of any disturbance or disruption (which may or may not be causing symptoms at the time) and make whatever interventions and lifestyle adjustments that would optimize the conditions for normal function. Using this unique approach, Dr. Khan is able to help you to accelerate and/or maintain your journey to good health.

ChiroTrust® Member Chiropractor
Arlington Heights, IL 60004
Chiro-Trust.org